How To Join A Skribbl.io Private Game?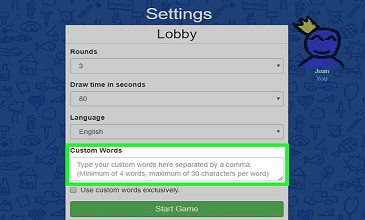 Skribbl.io is a fun-filled online game where you draw and other players will guess the word. In this game, the private room is a room where you can only join with the link provided by the player. This room is helpful when you can play only with a particular group of people. Let us learn in the following how to join a Skribbl.io private game?
You can have a better time with your friends by installing your own server in the Skribbl.io game. There will be a game room where other players cannot access you.
Steps For How To Join A Skribbl.io Private Game
Go to the official website: https://skribbl.io/ in your web browser. Here you can use any web browser on Mac or PC.
Enter the name in the first box: You can also use your nickname if you do not want to public your real name, and then select your avatar.
Select your language: Select the drop-down menu which you will find the next to your name and select the language. This will be the same language for all the friends in the Skribbl.io private room.
Select the mouth and eyes of your avatar: This is optional. You can change the mouth and eye color of your avatar.
Click on "Create Private Room": This is the blue button you will see at the window bottom. It will take you to the private game you will invite people to.

Check the setting window: It is the main window on the right side. You will see 4 different things. These are Custom Words, Language, Draw Time, and Rounds.
Select how many rounds you want to play: The default round is 3. You can use the drop-down menu at the top and select numbers of the round you like to play – Here you will get the option to select from 2 rounds to up to 10 rounds.
Select "Draw time in seconds": It will be the time how long each player will get time to draw. The default time is 80 seconds. You can select a time between 30 seconds to 180 seconds using the drop-down menu.
Change the language: If you have not selected your language earlier, you can select here in which everyone in the group will talk in.
Enter the custom words: The custom word is the word which you will be able to draw when you will get your turn. You can also use a comma to separate them.
Share the link: You will see a white bar at the bottom when you hover the mouse. Click on that yellow button "Copy" and send that invite link to your friends to join in your private game.
In this way, you can simply learn how to join a Skribbl.io private game.